Wondering what this Organic Campaign (Beta) feature in Socxly is?

Socxly Organic Campaign (Beta) is a unique idea which combines the power of organic reach on social media through word of mouth (advocacy) marketing.
Firstly, Socxly Organic Campaign is on BETA and is FREE to explore, experience and get excited.

It can convert your 'passive brand advocates / ambassadors' into active voices & influencers on social media by the power of sharing your brand content at their comfort & get rewarded for conversions.

Socxo Organic Campaign is the most viable alternative to 'paid social campaigns' which, of course is expensive, difficult to measure or track attribution and most importantly, lacks authenticity and connect with the social audience.

Every marketer is aware of the 'power of organic social reach & share of voice' that can be generated by enabling brand stakeholders - loyal customers, trusted employees / partners and communities to be the 'voice and face of the brand' on social media.

Imagine if we can give you a solution to leverage your trusted stakeholders (customers, employees, partners, fans) to share content / post to their social media channels.

You can also use Socxly Organic Campaign to drive performance based influencer marketing with your 'external paid influencers' with complete measurement and conversion attribution metrics

And, that too, just by a single click to share the campaign from their email or an internal customer loyalty app or employee / partner portal.


Socxly Organic Campaigns combines the Power of Email & Social Marketing

It is as easy as setting up an Email campaign but bringing the surprise of Social Sharing with it and engaging your trusted contacts to share the post to their social channels.

No referral codes, uri codes or any such parameters, but just a personalized campaign post to each individual contact to share to any social channel, communication channel or by email.

Socxly uses personalization techniques to not only deliver the Campaign Social Post to your Contacts, but tracks, measures and attributes the performance of your Campaign.

And, comes with full conversion attribution to the person who shared the campaign on to respective social channels, so that they can be suitably rewarded.

Socxly is built on the experience of our core product Socxo, which is a full fledged brand advocacy platform built for enterprise advocacy marketing programs.


Here are some use cases for using Socxly Organic Campaign tool: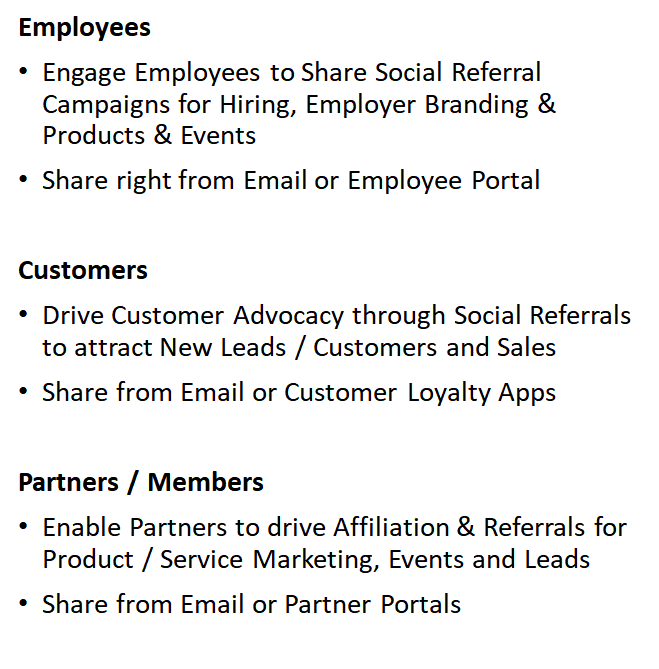 Ok, we'll reveal the secret sauce now.

Socxly Organic Campaign is a tool which can help you:

Create a Social Campaign Post (associated with a landing page) and publish it to your first-party contacts in just 4 steps.

Set your Organic Social Campaign Intent, Landing Page & Parameters

Quickly create the Campaign Social Post & choose Social Channels to share

Identify your Campaign Contacts and add them to the campaign distribution method

Set your brand message, preview and publish the Campaign

On Publishing your campaign,

Socxly runs its campaign personalization model to deliver the Social Campaign Post to respective Campaign Contacts into their Email Inbox or to the Hosted Campaign Page (if they have access to it through one of your internal apps / portals)

Sharing Campaign Post to Social Channels

Your campaign contacts will see the Social Post right in their Email Inbox or on a predefined Socxly Hosted Page

Contacts can simply view and share the campaign post from Email or Hosted Page to multiple Social Channels

Social Connections of your Contacts can see and click on the Campaign Social Post

Social Connections visit your landing page and convert (enter a CTA form or purchase a product or any call to action set in your landing page sequence)

That's It.

Socxly then does the heavy lifting of measuring:

Which contact share the post to which social channel through which medium (email or hosted page)

Number of clicks received by the campaign post across various channels by user and distribution medium

Conversion account and Attribution by user and channel

Can it be any more simple than this?

Now, you have the power to convert all your employees, partners, customers, members, communities and fans as nano or micro-influencers of your brand.

Explore Socxly Organic Campaign (Beta) for FREE and get the power of social, word of mouth, organic reach of social media.

Go to Socxly Organic Campaign Set up and kick start your first campaign.